On its 10th anniversary, Costs of Care names Christopher Moriates, MD, as the new Executive Director. Founder and outgoing Executive Director, Neel Shah, MD, named as Costs of Care's Chairperson of the Board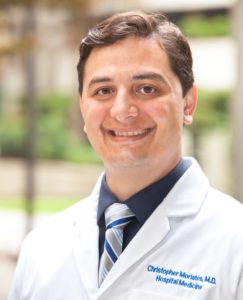 BOSTON (PRWEB) APRIL 24, 2019
Costs of Care, today on its 10th anniversary, names Christopher Moriates as the new Executive Director of the influential healthcare non-profit. Founder and outgoing Executive Director, Neel Shah, MD, has transitioned to Costs of Care's Chairperson of the Board.
Over the last decade, Costs of Care has helped to advance the motivating ethic of medicine to ensure the care that people receive is safe, dignified, and affordable. Through an annual story contest, Costs of Care has collected hundreds of stories from patients and clinicians that illustrate the opportunities to provide better care at lower cost. These stories have provided a basis for countless media articles, as well as educational materials, implementation frameworks, and high profile national workshops run by the Costs of Care team – all aimed at improving care.
"Costs of Care has emerged as a leading voice in the global conversation on how clinicians and patients can and should partner to ensure every person gets the right care at the right time. It has been an honor to work alongside the Costs of Care team as Executive Director, and I look forward to my new supporting role on the board," said Dr. Shah. "During this time, few people have influenced my thinking more than Chris Moriates – he is brilliant, deeply mission-driven, and extraordinarily effective at bringing people together to achieve positive impact on the world."
Dr. Moriates is the Assistant Dean for Healthcare Value in the Department of Medical Education; Associate Chair for Quality, Safety, and Value, and an Associate Professor in the Department of Internal Medicine at Dell Medical School at The University of Texas at Austin. Additionally, along with Dr. Shah and Dr. Vineet Arora, Dr. Moriates co-authored the book Understanding Value-Based Healthcare (McGraw-Hill, 2015). He has published more than 50 peer-reviewed articles and was a founding editor for the "Teachable Moments" series in JAMA Internal Medicine. He led the creation of the University of California at San Francisco (UCSF) Cost Awareness curriculum, the hospital medicine high-value care committee, and the Caring Wisely program. The Discovering Value-Based Health Care interactive learning module platform he created at Dell Medical School has been adopted by medical schools and residency programs across the United States.
"The affordability of health care is one of the most substantial problems facing Americans today. The mission, work, and people of Costs of Care are fully committed to addressing this issue," said Dr. Moriates. "I cannot think of a more inspiring group of people to continue to work with, nor a more important challenge for us to tackle together."
While many high-value care initiatives have emerged over recent years targeting overuse and health care waste, the affordability of basic health care services remains the public's primary concern. "The worsening lack of health care affordability is eroding public trust in our profession. Over the next ten years, we believe Costs of Care's greatest impact and growth lies in furthering a pipeline of interprofessional change agents within the delivery system who will advance public trust by addressing the dual issues of appropriateness and affordability of care," said Dr. Moriates.